Reading Time:
5
minutes
Can dogs eat plantains? Yes, dogs can eat plantains! Plantains are fiber-rich banana look-alikes that support healthy digestion in dogs. In addition, these fruits contain a healthy dose of nutrients such as vitamin A, potassium, and iron.
While plantains have nutritional and health benefits to dogs, they also have some drawbacks. Learn how to prevent these risks as you continue reading.
Are Plantains Toxic to Dogs?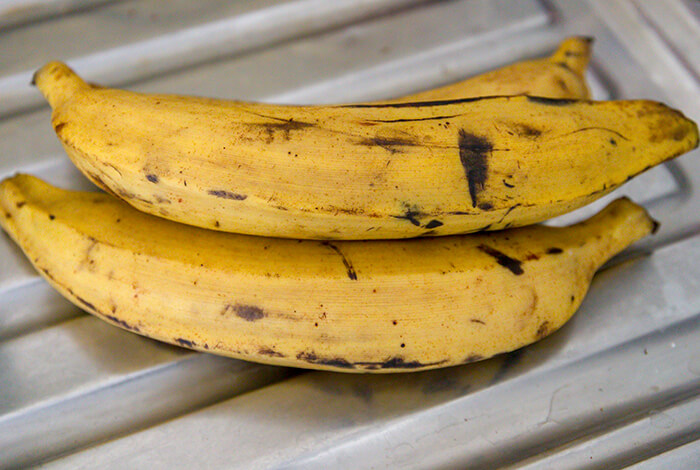 Do not confuse the name plantains for a plant called plantains lily. The former is a nutritious fruit, while the latter is toxic to dogs. Unfortunately, cats and horses are not immune to the plantains lily's toxicity too.
What Benefits Can Dogs Gain from Eating Plantains?
Plantains are mainly composed of carbohydrates and dietary fiber. A good number of vitamins and minerals can be found in this fruit too. These include vitamin A, vitamin C, vitamin B6, magnesium, potassium, and iron.
Plantains give dogs immense benefits, including:
Aid in Managing Weight

The dietary fiber of plantains can help overweight and obese dogs go back to their normal weight. It makes them fuller for longer periods and decreases the amount of food they consume.

Promote Better Digestion

The digestive system of dogs will work better with the help of dietary fiber, and they can get sufficient amounts of it from plantains. It helps regulate bowel movements and mitigates digestive issues such as constipation and diarrhea.

Protect the Heart

The high potassium levels in plantains are good for your dog's cardiovascular health. This mineral is essential for regulating cell and body fluids responsible for regulating blood pressure and heart rate.

The dietary fiber and anti-inflammatory properties in plantains also improve heart function. They assist in maintaining normal cholesterol levels and lessen the risk of heart disease.

Increase Resilience Against Diseases

Plantains contain bioactive compounds, which give the fruit anti-inflammatory and antibacterial properties. These add extra protection to your dog against many transmittable and infectious illnesses and help boost their immune system.
Are There Dangers If Dogs Are Fed Plantains?
Plantains are generally safe for dogs to snack on. However, they do have a few minor drawbacks.
May Shoot Up Your Dog's Blood Sugar Levels

The glycemic index of raw plantains is around 40. Cooking them makes their glycemic index 2 times lower. This makes plantains fall under the low GI category.

Hence, their glycemic index will not affect the blood glucose levels of healthy dogs. Unfortunately, the same cannot be said for pooches with diabetes. Feeding them plantains may increase their blood sugar.

Thus, if you have a diabetic dog, consult the vet before feeding him plantains. It is always better to be cautious than take unnecessary risks.

Can Cause Stomach Issues

We have highlighted the wonders that dietary fiber in plantains can do to dogs. It may benefit their health, but dietary fiber can also cause problems if consumed in large quantities.

Dogs may develop diarrhea and other digestive issues if this happens. Feeding plantains to your dog in moderation will save you the trouble of cleaning after stinky potty accidents.
What Types of Plantains Can Dogs Eat?
There are many varieties of plantains that are sold in the market. Before you go and share any of them with your pet, you must first know if they are safe for him to eat.
Q: Can Dogs Eat Raw Plantains?
No, plantains should not be eaten raw by dogs. They are called cooking bananas for a reason. Their tough texture can only be softened through cooking.
If a dog eats raw, ripe plantains, his stomach will have difficulty digesting them. He is also in danger of choking since a tough piece of plantain might get stuck in his throat.
Q: Can Dogs Eat Fried Plantains?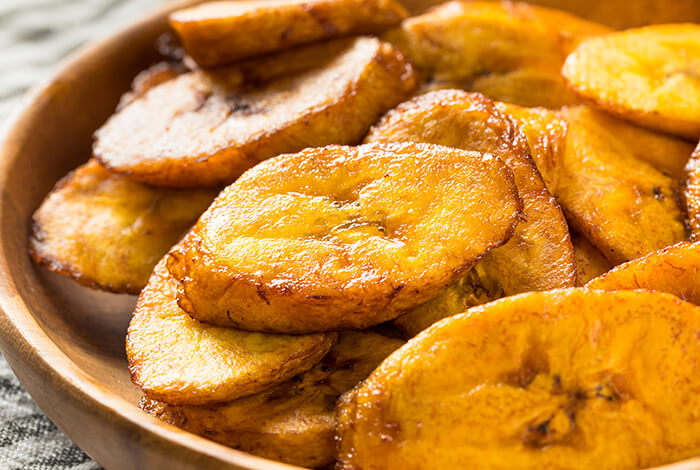 No, feeding fried plantains to dogs is a bad idea. Although we have stated that cooked plantains are better options than raw, the fried variety is not the best option. It has a high-fat content that can cause stomach upset or worse, pancreatitis.
Boiled or steamed plantains are healthier snacks for your furry friend.
Q: Can Dogs Eat Sweet Plantains?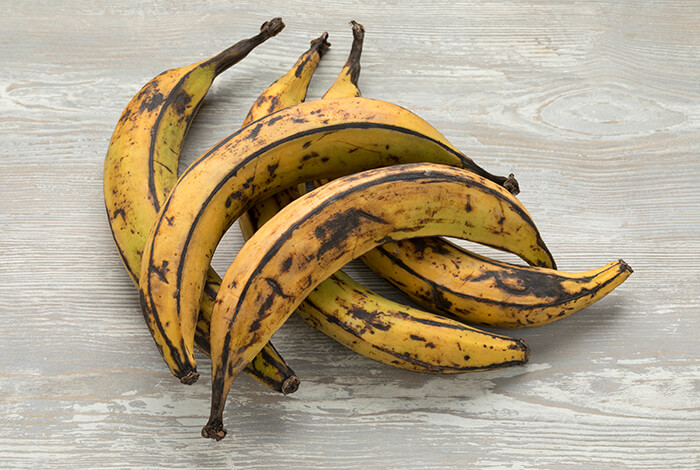 No, it is not advisable to let dogs eat sweet plantains. Also known as maduros, sweet plantains are fried in oil and coated with caramelized brown sugar.
These are not healthy snacks for your pooch and may even lead him to develop health issues such as diabetes, heart problems, and obesity.
Q: Can Dogs Eat Plantain Chips?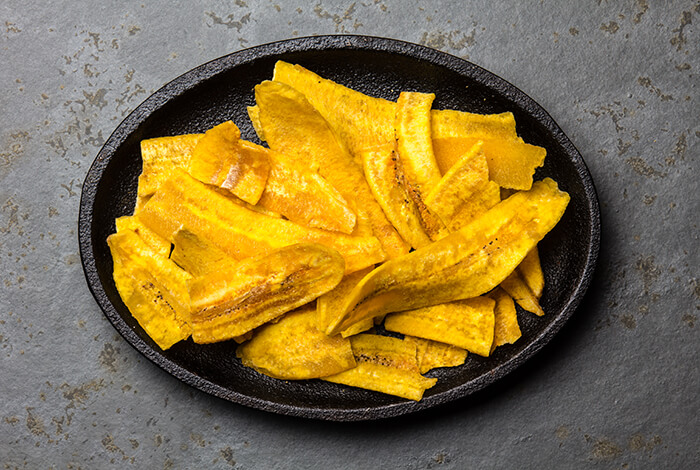 No, plantain chips are not recommended for dogs. Creating these snacks usually involves frying them in oil. So they are high in fat, much like fried plantains.
Q: Can Dogs Eat Green Plantains?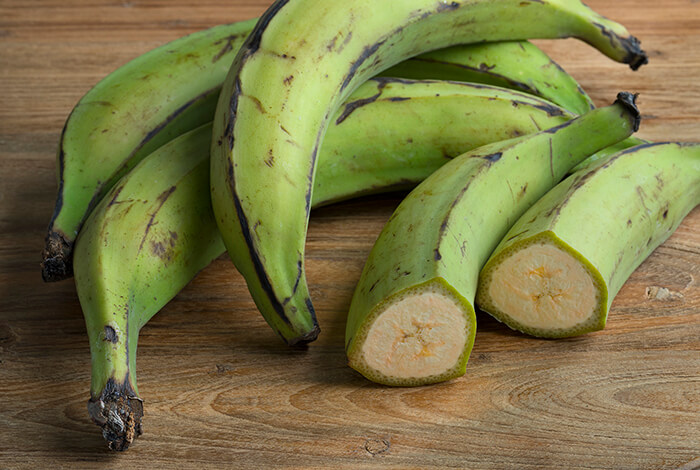 Yes, unripe or green plantains are safe for dogs to eat. You can boil or steam them so your pooch can feast on them with ease. Do not forget to feed cooked green plantains to your dog in moderation.
Q: Can Dogs Eat Yellow Plantains?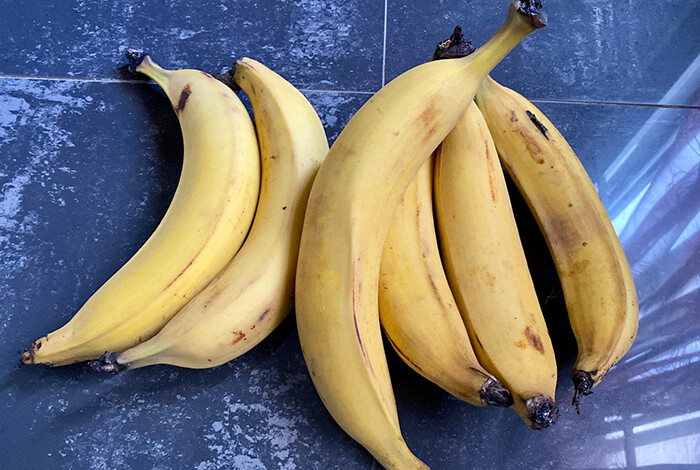 Yes, it is fine for dogs to eat yellow plantains. The yellow color of the fruit signifies that it is ripe. Yellow plantains tend to have high levels of sugar compared to green plantains. Thus, serve them in small amounts.
Prepare yellow plantains for dogs the same way as you would with green plantains.
How Much Plantain Should Your Dog Eat?
Now let's go back to the very first question: "Can dogs eat plantains?" The answer is a resounding yes. Generally, small dogs can have ¼ slice of cooked plantains. For larger dogs, they can have ½ slice of cooked plantains.
These fruits are meant to be treats and should only be fed to him from time to time. Veterinary advice often recommends that fruits and vegetables must only make up 10% of your dog's diet since he gets most of his nutrition from his dog food.
Eating plantains excessively can badly affect your dog's digestive system.
Some dogs have more sensitive tummies than others. Their stomachs might negatively react after they have consumed plantains.
Make sure to keep an eye on your dog once he finishes eating. If he has diarrhea, constipation, upset stomach, or flatulence afterward, reduce the amount of plantain you feed to him next time.