Reading Time:
6
minutes
Are you on a hunt for healthier alternatives to commercial dog treats? We have selected 6 healthy dog treat recipes to get you started and get Fido's tail wagging.
No-Bake Healthy Dog Training Treats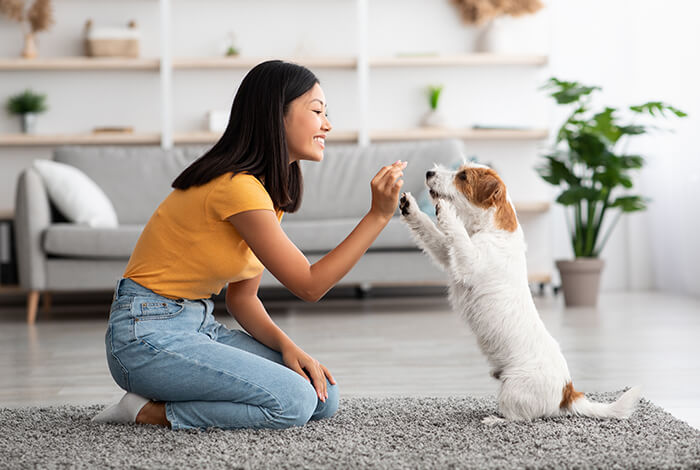 Ran out of dog training treats? You can make a dozen of them in a jiffy with the help of this recipe. These dog treats are not only quick and easy to make, but they are also healthier (beta-carotene from carrots) and cheaper alternatives to commercial dog training treats.
What you need:
How to create these healthy dog treats:
Place the shredded coconut in a small bowl.
Using a knife, slice the carrots into ½ slices.
Mix the applesauce, honey, peanut butter, rolled oats, and wheat bran in a large bowl.
Scoop around a tablespoon of the mixture into your hand. Roll it into a bite-sized 1-inch size ball.
Push a sliced carrot to the center of the ball. Mold the dough back into a ball by rolling it in your hand. Repeat with the remaining ingredients.
Roll each of these healthy dog treats on the shredded coconut. Make sure everything is coated evenly.
If you want firm dog training treats, refrigerate them for 30 minutes.
Storing these healthy dog treats in the freezer can make them last for up to 1–2 months.
Recipe notes:
Always check the ingredients list of the peanut butter. It should not contain xylitol because it is highly toxic to dogs.
These healthy homemade dog treats can be adjusted according to your dog's size. If you own a small pooch, create a smaller dough, like ½ inch in size.
Grain-Free Doughnut Dog Treats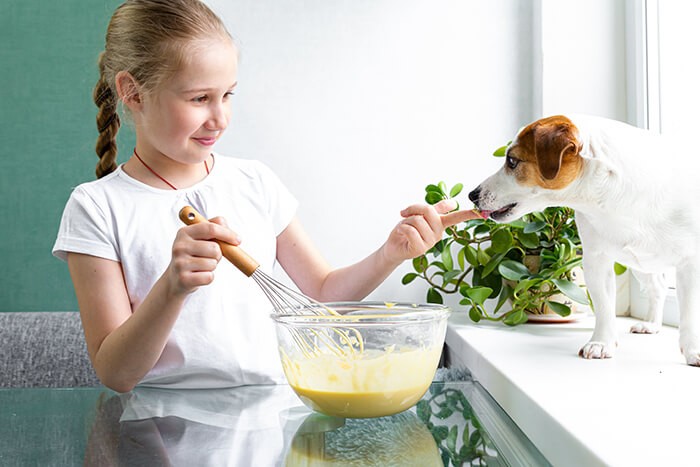 These nutritious and tasty dog treats are grain-free and ideal for pooches with sensitive stomachs. Follow this recipe to bake healthy and dog-friendly doughnuts using some organic ingredients.
What you need:
For the frosting:
3 tablespoons water
½ cup tapioca starch
½ cup plain Greek yogurt
How to create these healthy dog treats:
Preheat the oven to 350°F.
Grease a non-stick doughnut pan with coconut oil.
In a large bowl, mix all of the ingredients. Stir until a thick doughnut batter is formed.
Pour the batter into a piping bag and pipe it into the greased doughnut pan.
Fill the pan to the very tap as the batter will not rise much as it bakes.
Don't forget to rap the pan on the counter gently. Doing so will level the batter properly.
Bake in the oven for 10 minutes.
Let the grain-free dog-friendly doughnuts cool completely on a wire rack.
Frost each of these oven-baked healthy dog treats with the Greek yogurt frosting.
For the frosting:
Combine the Greek yogurt and tapioca starch in a small bowl.
Mix in the water 1 tablespoon at a time until the mixture has a frosting-like consistency.
Recipe note:
Turn the white frosting into your desired color by pureeing dog-safe fruits and vegetables of your choice.
Mixed Fruit Pupsicle
These frozen all-natural treats will help your furry friend cool down on a hot day.
What you need:
1 tablespoon unsweetened, xylitol-free peanut butter
1 tablespoon ground flax meal
½ cup blueberries
½ cup plain Greek yogurt
1 cup freshly cut pineapple pieces
1 cup fresh spinach
1 cup coconut water
1 ½ cup diced watermelon
1 banana
For edible dog pupsicle sticks:
¼ cup unsweetened applesauce
½ cup 100 percent organic pumpkin puree
1 cup whole wheat flour
1 cup oats
1 shredded carrot
1 mashed banana
1 teaspoon dried parsley
How to create these healthy dog treats:
Pulse all ingredients in the blender.
Place 6 small paper cups in an 8×8 baking pan.
Pour the pureed mixture of fruits into the cups evenly.
Cover the pan with plastic wrap, and cut small slits in the center of each cup.
Insert edible dog pupsicle sticks through the holes.
Freeze for 4 hours.
Serve these refreshing, healthy dog treats to your beloved pooch.
For edible dog pupsicle sticks:
Preheat the oven to 350°F.
Line the baking sheet with parchment paper.
Combine all ingredients thoroughly in a large bowl.
Spread the dough onto the baking sheet by hand. It should be ¼-inch thick.
Cut the dough into sticks using a pizza cutter.
Bake for 20–25 minutes.
Remove these healthy dog treats from the oven and allow them to cool.
Pumpkin Puppuccino Dog Treat
Awaken your inner barista and make a fancy drink for your pooch with this recipe. The pumpkin puppuccino is a lip-smacking treat your dog will love to bits.
What you need:
½ cup plain Greek yogurt
¼ cup 100 percent organic pumpkin puree
For the whipped cream:
How to create this healthy dog treat:
Place the Greek yogurt and pumpkin puree in the blender.
Pulse until smooth, and the mixture is free from any chunks.
Transfer the pumpkin puppuccino to an airtight container and refrigerate until cold.
Pour it into a glass of your choosing. Garnish this healthy dog treat with coconut whipped cream on top and serve it to your canine companion.
For the whipped cream:
In a large bowl, pour the entire contents of the canned coconut milk.
Using a whisk, mix the solid and liquid parts of the coconut milk. Stir until it has a frothy consistency.
Chill this healthy dog treat in the fridge.
When using coconut whipped cream, beat it with a whisk or a balloon mixer until stiff peaks form.
Homemade Crunchy Treats for Dogs
These healthy treats are definitely something that you should make if your pooch loves an extra crunch in his snack.
What you need:
How to create these healthy dog treats:
Preheat the oven to 170°F.
Snap the ends off of each green bean.
Line a baking sheet with parchment paper.
Place the green beans in a ziplock bag.
Pour in the olive oil and mix.
Once all green beans are coated with olive oil, place them on a paper towel.
Dry beans in the oven for 8 hours or until all beans are crunchy. If you have a dehydrator, dry them at the same temperature and duration.
Bring these healthy dog treats out of the oven or dehydrator and let them cool.
Recipe notes:
You can substitute olive oil with salmon oil or flaxseed oil. These are rich in omega fatty acids and commonly used in pet foods.
Olive oil can boost your dog's immune system. It is also recommended for dogs that have difficulty digesting omega fatty acids.
Chicken-Sweet Potato Dog Chews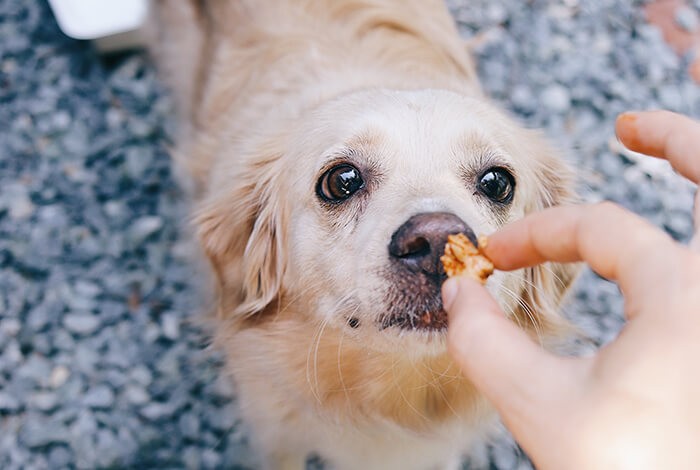 Chicken-sweet potato dog chews are a healthy substitute for rawhide chews. These are good treats that help scrape off the tartar from your dog's teeth.
What you need:
2 tablespoon coconut oil
1 tablespoon fresh parsley
1–2 8–10-ounce chicken breasts
How to create these healthy dog treats:
Preheat the oven to 250°F.
Line a baking sheet with parchment paper.
Remove fat from the chicken breast using a knife. Then slice the meat into thin strips.
Thoroughly wash and dry your sweet potatoes.
Slice your sweet potatoes into thin strips. They should be ¼–⅓-inch wide.
Wrap each slice of sweet potato with a strip of chicken.
Place the sweet potato strips on the baking sheet. These healthy dog treats should be arranged in a single layer.
Brush the chicken-sweet potato chews with coconut oil and sprinkle with bits of parsley.
Bake them for 3 hours. Don't forget to flip them halfway through once. When these healthy dog treats are dry and chewy, they are done.
Take them out of the oven and allow them to cool completely.
Serve these healthy dog treats to your furry friend. Ensure to store any leftovers in an airtight container and place them in the fridge to keep them from getting moldy.